Welcome to Laptop Living Free! 
I am Nicky, a 30-something citizen of the world who has always been passionate about traveling, reading, writing, learning and earning money online.
For the past 2 years I have been exploring ways to make a living working from my laptop. It's a continuous journey of personal development, learning, taking risks, avoiding scams online, trials and errors and investing in yourself!
But it's totally worth it, because if you are really passionate about location independence and freedom, and you put in the hard work, then working online is the most viable way to achieve that.
Do you feel the same? Then you've landed on the right website and I want to help you get there too!
My Journey to Working Online and Location Independence
Since my first trip abroad, to Israel when I was a teenager, I caught the travel bug. The world is beautiful and huge and even one lifetime is not enough to see it all! So I quickly realized that I don't want to get stuck in a work schedule that would allow me only 2 weeks vacation each year.
I needed to find another way to earn money while traveling long-term.
And I started exploring ways to do just that. After completing my Masters degree abroad, I began searching for work in another country. And I found a Science teaching gig in an international school in Bahrain, which allowed me to travel during holidays and summer months. It was a good compromise in the 9-5 world; not a soul-crushing monotonous desk job, still allowing plenty of time to travel while at the same time it was fulfilling and rewarding in many ways.
But after 2 years, my feet got itchy and I thought "why not do the same job to earn money but move to another country, where I will establish myself temporarily in a new base and get to explore the new surrounding countries?" So off I went and found work in another school, in Thailand this time, where I stayed for another 2 years.
I guess the term that now applied to me was serial expatriate. Find a job in a new country every 2 or 3 years and move from place to place. My expat status was a good trade-off; I was an employee but I enjoyed perks like health insurance benefits, housing allowance, airplane tickets, work visas and the ability to save a good chunk of my salary each month and dedicate it to travel.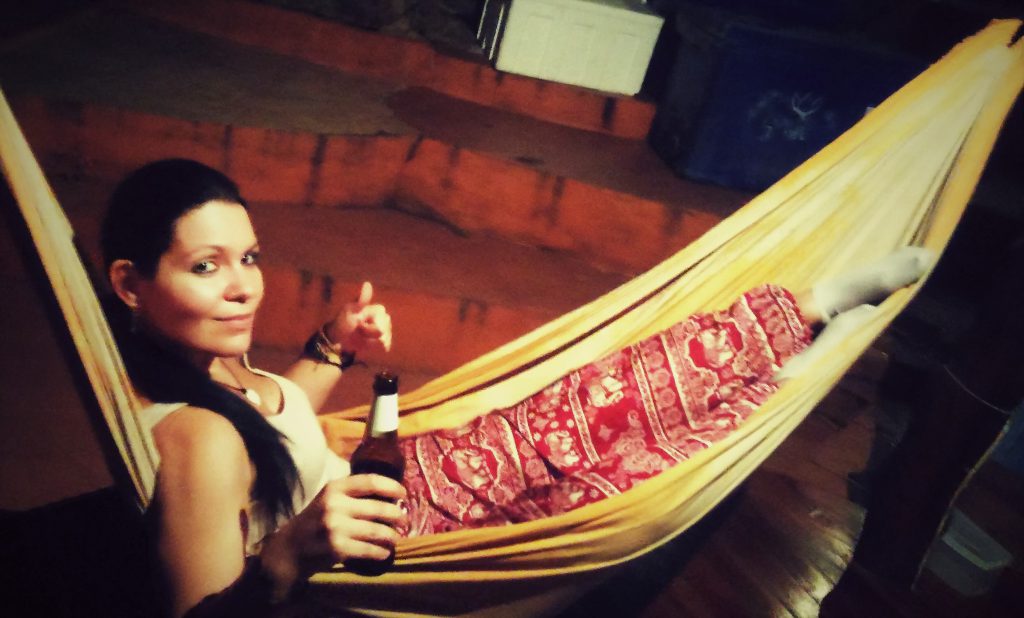 My trip lengths varied from 3-day weekends to 2-month stitches of backpacking. But during my travels, I would meet people that wouldn't be tied down to a job. They had found non-traditional ways to earn money and keep themselves on the road, like working remotely.
A teacher's life is more flexible than your typical employee's, but still your free time is restricted to public holidays and the months during which the school is closed. I still wasn't free to pack and go to this specific festival or that amazing seasonal destination.
At the same time, during all these years I was pursuing my hobbies in my free time – online classes about creative writing, website building, programming. I started my travel blog and got involved in a couple of online-money-making schemes that proved to be scams. I began to educate myself on investing and freelancing and affiliate marketing and how to use my skills to actually break free and earn a livable amount of money doing what I actually love.
Join me in creating the Laptop Lifestyle – Be your Own Boss
In this website, I want to share my knowledge, trials and errors, resources and experience with everyone else who encounters the "laptop lifestyle" and gets excited but doesn't quite know where to start!
Maybe you've seen Instagram posts praising entrepreneurship with hashtags like "officeEnvy" and pictures of people working outdoors in awesome locations; or you have stumbled upon Facebook communities and groups of Digital Nomads; or you have done lots of "work from home" Google searches and dived in a few opportunities that turned out to be scams; or you have heard about remote work options and co-working spaces and you're craving the flexibility and freedom this lifestyle offers.
Whatever the path that led you here, I totally get you! I share the same cravings for financial independence and for creating a life that allows me to make choices. To take risks. To get out of my comfort zone and grow. To be flexible and travel often, whenever and wherever I please. To create my own working hours. To only work with people whose values align with mine. To make a difference in other people's lives and help them lead a more fulfilling life.
Let's achieve Our Goals and Live Free!
I hope you join me in the journey to location independence. It is a challenging road for sure, but if you're as passionate as I am to achieve financial freedom and break free from the 9-5 rat race, you will find that the journey is very rewarding too!
If you ever need a hand or have any questions, feel free to leave them below and I will be more than happy to connect with you.
All the best,
Nicky – Founder of Laptop Living Free
laptoplivingfree.com